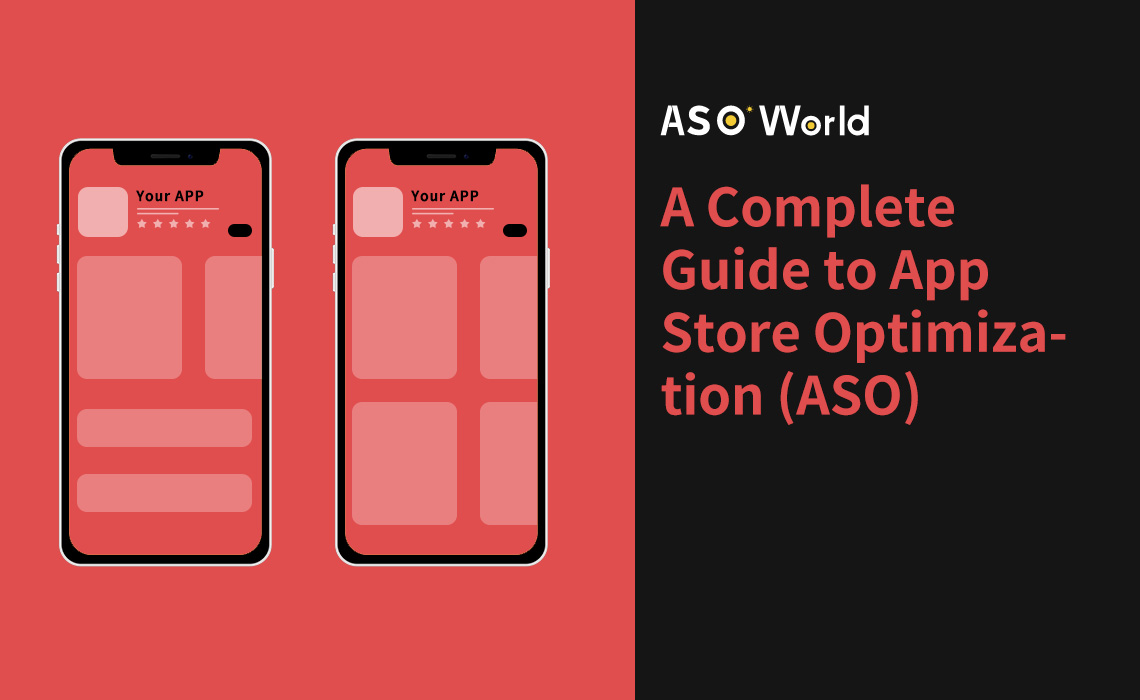 The Apple App Store has over 1.6 million apps available for download, while the Google Play Store has 3.5 million on offer until Q3 2022. The fierce competition means that as the mobile app market continues to grow, it is becoming increasingly difficult for apps to stand out. You will get none download and revenue if your apps cannot be seen in app stores even they have amazing features and ground-breaking design.
There is no doubt that the most guaranteed way to increase app downloads and revenue is app store optimization (ASO). Here we have prepared an in-depth guide to share all tips you need to know to get succee at ASO.


1.

What is App Store Optimization (ASO)?
App store optimization (ASO) is the process of optimizing mobile apps basic metadate to improve the visibility in app stores with the objective to increase the organic downloads. ASO focusses mostly on two aspects: keyword optimization and conversion rate optimization. A solid keyword optimization strategy will make your app get higher postions in the app stores search results. Great conversion rate can make sure the increased visibility leads to more app downloads.
The main factors of ASO
Based on whether the factors affecting ASO can be controlled by app publishers or not, we divide these factors into two main groups: On-metadata factors and Off-metadata factors.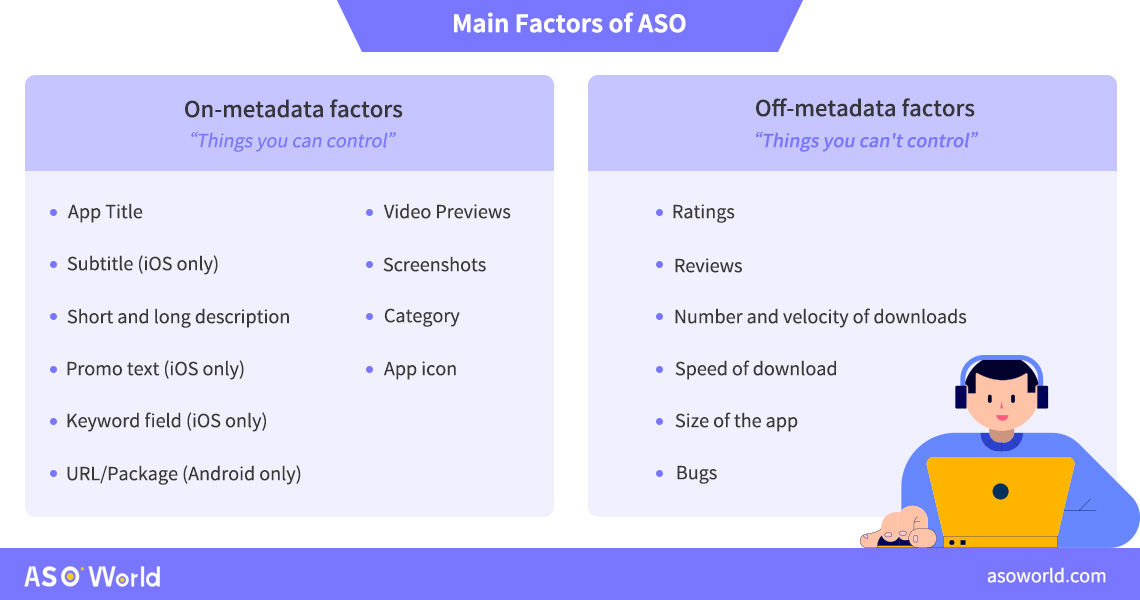 On-metadata factors.

O

n-metadata factors are under full control of app publishers, including app title and subtitle, short and long description, keyword field and promo text (App Store only), app icon, screenshots and preview video, category, URL/package, etc. On-metadata factors can be altered in App Store Connect or Google Play Console to improve keyword rankings, boost app visibility and increase conversion rate.
Off-metadate factors.

I

n contrast to on-metadata factors, off-metadata is uncontrollable element for app publishers, including ratings and reviews, number of downloads, speed of download, size of the app and bugs, etc. Off-metadata factors are indirected but also have large impact on optimization efforts.
2.

Why App Store Optimization (ASO) is Crucial for App Growth?
Understanding the importance of app store optimization is beneficial for making a successful ASO strategy. In order to learn app optimization, let's first list the main benefits of ASO.


Increase the visibility of your apps and stand out in app stores
People will not download your app if they can not find it. Even there is still a high probability for the potential users to ignore your app when it does not rank in top 10 in the search results. So no matter how fantastic your app is, the most important thing is to improve the visibility and make it stand out in app stores.


Find high-quality and relevant users
ASO gets you to the right users because it matches your app to relevant keywords. These are the search terms people will use to find your app. Only the right users have the most probably stay with you for a long time and do lots of in-app purchases.


Boost organic downloads in a sustainable way
ASO provides you a constant overflow of organic downloads. Once people search for keywords related to your app, the search results will contain your app. Appropriate screenshots, preview video or positive reviews will increase the chances of being downloaded. So a good ASO strategy will boost your organic installs and ensure long-term results.


Acquire users in the most cost-effective way and achieve continuous growth
Compared with the spending on advertising, ASO is completely free. You can lower acquisition costs by focusing on organic growth with ASO. The result depends entirely on your efforts and continuous growth made cost-effective.


Increase conversion rates and app revenue
Advertising is definitely a popular way to monetize your app to bring in more users and revenue. But if your app store listing page isn't converting and convincing users to download your app, your ad spend will be wasted. Remember, ASO involves conversion rate optimization and getting people to click through and download the app.


Make the most out of your Apple Search Ads campaigns
For iOS apps, ASO should be the first step before you start investing in an Apple Search Ads campaign. An effective ASO strategy will enable you to come up with the best keywords, which will bring the highest Return on Ad Spend (ROAS).


Reach a global audience with your app
As a process of ASO, app localization strategy makes your app appeal to users in a wide variety of locations with the relevant languages around the world. ASO can help you reach out your users in the whole world.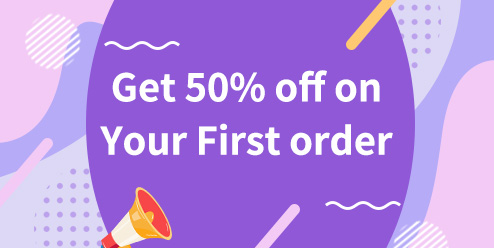 ASOWorld App Store Optimization Service Discounts
Get 50% off on your first order on ASOWorld platform and get a good start for your app growth.
3.

How to do App Store Optimization (ASO) ?
It has been emphasized in the previous session that ASO focuses mostly on two aspects: keyword optimization and conversion rate optimization.

But ASO is not a once and for all job, you should be patient and keep optimizing to get continuous growth. In addition, market analysis is essential for effective ASO strategy before keyword optimization.
Market Analysis
Know your app
Which app category are you in?? What is your ranking position? What are your ratings and reviews? What is your keywords ranking distribution? Getting to know your app's strengths and weaknesses is extremely necessary for any method of app growth strategy.


Know your competitors
To some extent, competitors are what your app needs to surpass. Without knowing with competitors, your should not know the competition in the market and your position against them, so that your effectiveness of ASO will be greatly diminished.



As a free tool of ASOWorld, App Diagnosis provides information about how well your app and your competitors do ASO in the specific market.


Analyse the market
Compare your app's strengths and weaknesses with those of the competitors. Find the gaps or the so-called unfulfilled needs in the market and think about how you can fill in. No ASO strategy can be considered effective without a thorough market analysis.


Keyword Optimization
By discovering the most relevant and appropriate keywords and put them in your app's textual metadata, the aim of keyword optimization is to increase ranking position in the search results for these keywords in order to improve the visibility of your app.

The ranking position of an app directly correlates with the number of downloads. Consisting of keyword research, keyword selection, and keyword testing & tracking, keyword optimization is a cycle that you need to repeat in every development stage of your app growth.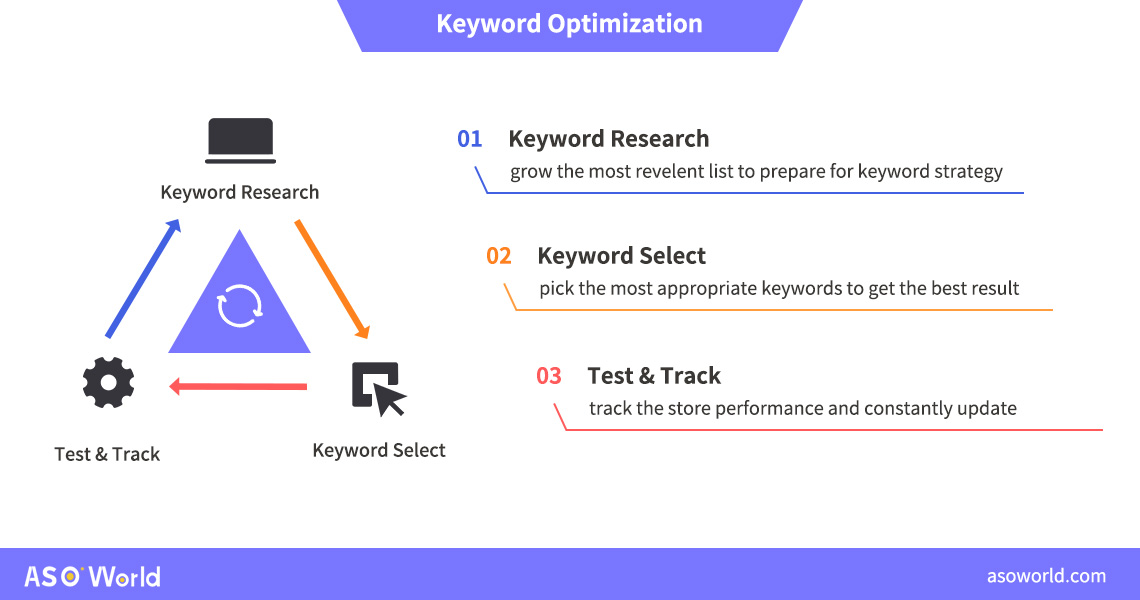 Keyword research: Find the relevant keywords
Finding keywords is the most difficult part in ASO. It will be easier to keep in mind that the keywords you find should be the most relevant to your app. If they have nothing to with your app, you would be targeting the wrong audience by using those keywords. Here are several tips to explore keywords.


Research by seed keywords:

As this is your app, no one can know it better than you and your team do. Try to put yourself in the shoes of your potential users and think about what they would search for if they wanted to find an app like yours. Then gather all the possible ones as seed keywords and make long-tail versions or create different combinations to grow your keyword list.

Research by ranked keywords:

Checking the keywords your apps have already coveraged is a quick way to find keywords. Some keywords may have top ranking positions now and have brought downloads. You should pay attention to these keywords. It is easier for ranked keywords to get well store performance than those unranked.

Research by competitor keywords:

Checking competitor apps will most definitely give you the best and the most reliable keyword ideas. Actually, your desired future competitors have already done the hard work and came up with the best keywords that work for them assuming that they're good at ASO. So remember to analyse the unique keywords and shared keywords of your app and your competitor.

Research by top keywords:

Last but not least, explore the top keywords of your app category. Finding these keywords which have the biggest movement. The search volume trend can also help to extend you keyword list.
Keyword selection: Choose the most suitable keywords
After keyword research, you have done the painful part in ASO. Now there is a grand list of hundreds keywords, but the question is how to pick suitable keywords to promot since these are all relevant to your app. You should consider the following criteria.


Relevency to your apps:

Relevancy score is an important indicator that desides whether the audience you target is interested in your app. Actually, it won't help if those keywords are not relevant. Because the wrong audiences won't download your app. Relevant keywords is essential to acquire loyal users.

Popularity of the keywords:

Popularity, also called search volume ore search score, is

a metric that tracks and signals the search traffic of keywords. For iOS, it is currently the most precise indicator of volume available, computed by Apple directly.

Search volume under 5

generally means that they are very few searches and that the keyword is almost not used in searches.

Difficulty and Chance of the keywords:

Difficulty score indicates how difficult it would be for any app to rank in the top 10 for a keyword. Chance score shows the likelihood that your app specifically would manage to rank in the top 10 of that keyword. Before you decide on targeting any keywords, you should consider the difficulty and chance score of them.

Here is a powerful ASO platform, Appranking provides ASO Keywords function to do keyword research work, and show search volume, relevency, difficuly and chance score of each keywords that makes you have better promot desicions.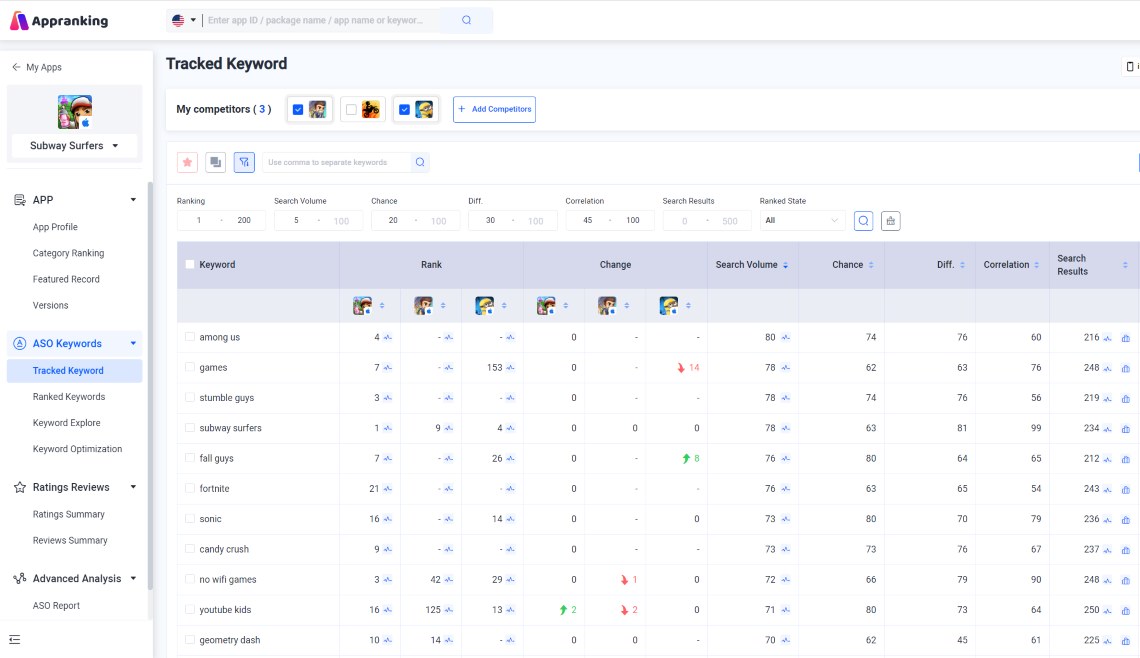 Keyword testing & tracking: Get results of selected keywords
Here you have got your targated keywords. Next step is to put them on your app's title, subtitle, keyword spot (for iOS) , and app description. All these factors affect your app's ranking but in different coefficients. What we know is that, though, app title is the most important ranking factor for both app stores. Hence, place your best bet there.


You will see an immediate boost in search ranking. What the app stores do is that they initially increase your ranking and see if you really get downloads. If you're not, they drop it back. If you're getting downloads, that means your app is truly relevant to that keyword, and keep increasing your app gradually.

As a result, it is successful keyword optimization for these keywords. But it is failed optimization for those keywords that are not getting downloads and drops back. Beside your target keywords, the actions of your competitors and the whole market also influence the optimized results.


You need to repeat the cycle again and again to get completely keyword optimization. Ultimately, your rank in the search results will increase, and thus your category ranking will increase. A boost in the category ranking will hopefully get you into the "Featured Apps" and then you'll watch dollars filling in your bank account.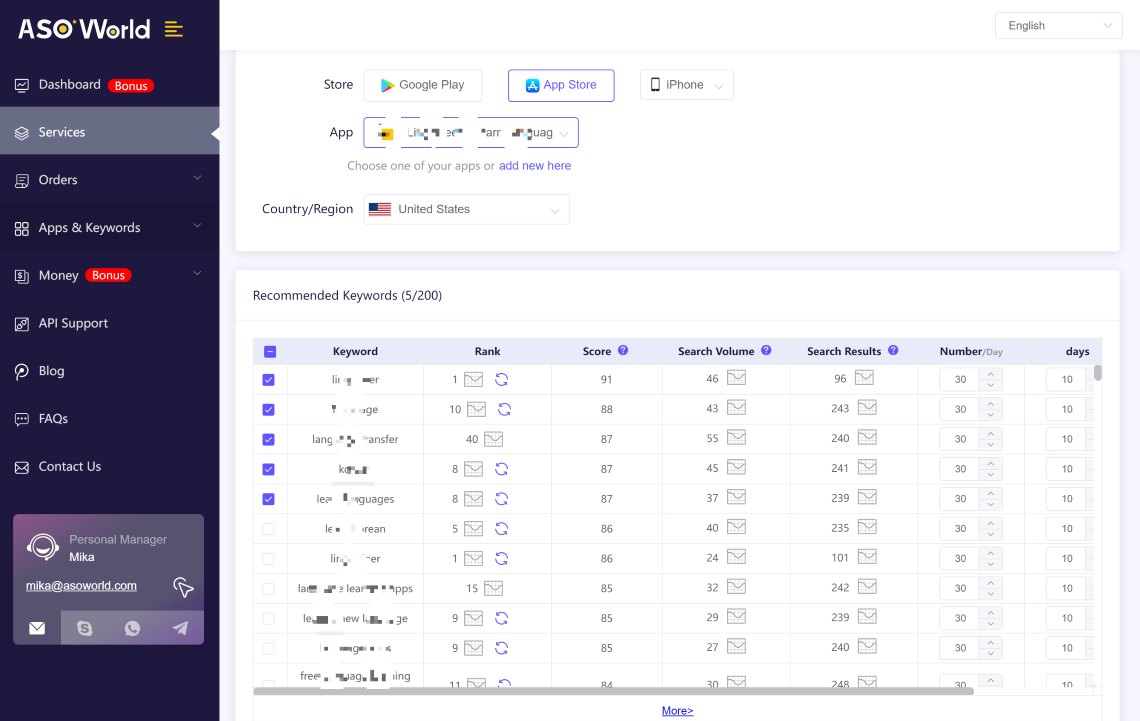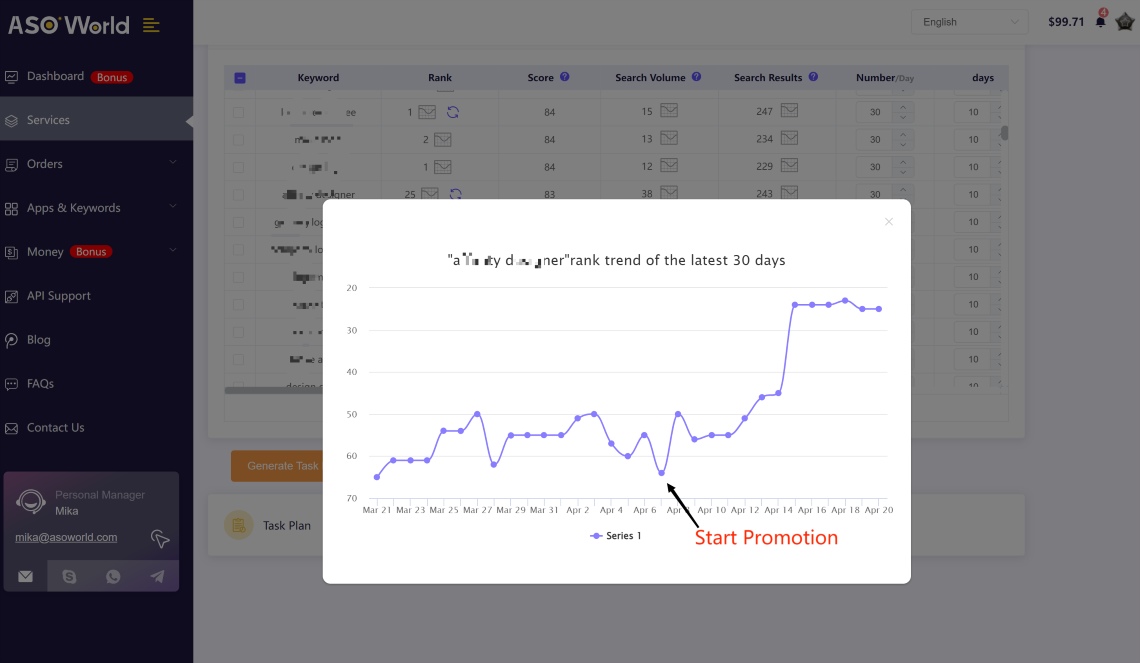 ASOWorld will give the most valuable keywords based on your competitors in Smart Campaign. This amazing service can promote your app to the top on any keywords in targeted country with just a couple days, eventually get organic traffic growth.


The image shows an example of keyword optimization.


Click here to get more details:
Dating App Case Study: Uplift App Store Search Traffic & App Visibility with Keyword Optimization


Conversion Rate Optimization
Up to now you have done keyword optimization and gotten the increased visibility of your apps. The next important step is conversion rate optimization, also called creative asset optimization.
It is true that a highly visible app can bring downloads, but it is not a guaranteed result that people will definitely hit "Get" button once they see it.

Conversion rate optimization, involving app icon, screenshots, preview video and some other off-metadata factors such as ratings & reviews and download numbers, can promise a satisfying number of downloads.

Hence, it is imperative to optimize these creative elements in app's page. Creative optimization work needs the professional team to do, and we give you two recommendations.


Firstly, the birth of ChatGPT has revolutionized the world of AI-powered content creation and business innovation. With its advanced architecture based on GPT-3.5, ChatGPT has opened up endless possibilities for app marketers and gave strong support on creative optimization.


In addition, ASOWorld offers ASO Service that can fulfill the professional need on creative optimization. You can choose different package based on your strategy.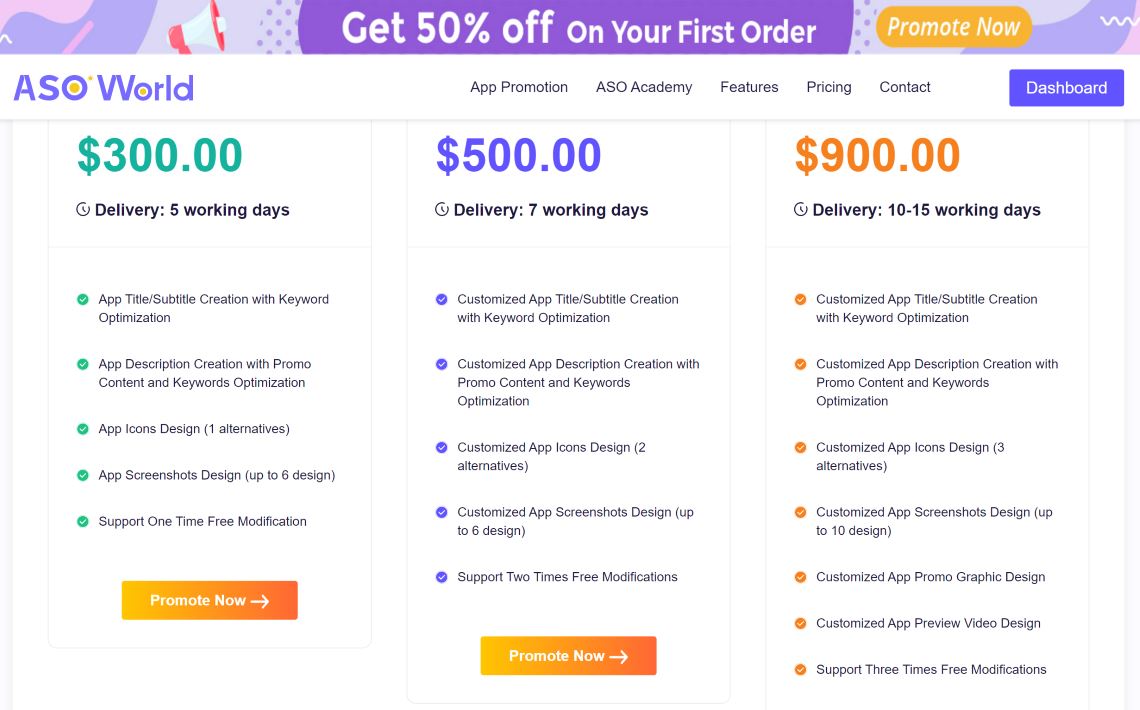 4.

Checklist for iOS App Store Optimization Ranking Factors
If you do ASO for iOS apps, you must know the differences and how each factor affects your app's ranking. Here is a visual summary of all ranking factors for the App Store, and we will explain each one.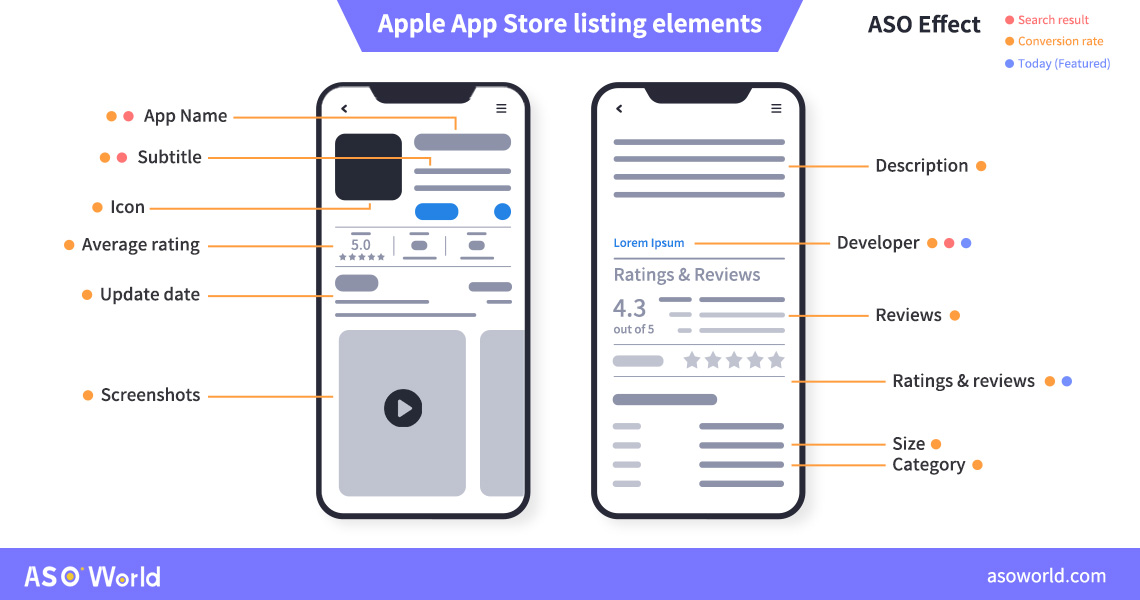 The Most Important iOS Factors
As the most important ranking factors for Apple App Store, app name, subtitle and keyword field not only do affect your ranking in search results but also directly affect the conversion rate.


App Name
Apple's algorithm gives the most weight to app name, so what you write in app name is truly matters. App name should be at most 30 characters long which is less than the limitation of Google Play with maximum 50 characters.

It is better to include your brand name if you have a famous brand. Otherwise including the most important keywords is the best way possible to define your app or relay the value of it.

Since Apple uses app name to create your app's URL, do not use some special characters in it. In a word, app name should be short and memorable, also needs to related to the value of your app.


Related article about optimizing app name:
How to Make an App Title in App Store? Great Android App Title Attracts App Downloads


App Subtitle
Subtitle is made to give additional information about the app in a sentence or emphasize the most attractive features of the app. Like the app name, subtitle has also a 30 character limit. It is visible in the Top Charts and in the search results, which means it also affects click-through-rate (CTR) and conversion rate.

So, your main purpose when making a subtitle should be to attract the attention of potential users with the most relevant keywords.

In addition, subtitle can only be updated when a new update or a feature is released.

It is better test different versions in each update to find out the most impressive and engaging subtitle that will convert the highest number of users.


Related article about optimizing app subtitle:
How to Promote an App on iOS App Store for iPhone, Apple TV & Apple Watch?


Keyword List
There is a keyword list specific to App Store only, where you can put the relevant keywords.


Here are some tips to utilize it in the best way:
It has a keyword limit of 100 characters, remember to fulfill it.

Avoid repeating your app name or keywords in subtitle.

Use the less competitive but high chance score keywords.

Try to use shorter versions of the keywords.

Use comma to separate each keyword.

Don't include both the plural and singular versions of a keyword

Don't put prepositions or articles.
Related article about optimizing keyword list:
All You Need To Know About App Keyword Promotion


The Secondary iOS Factors
The secondary ASO factors are that may have less affect in search ranking result but have significant influence on conversion rate. Each of them works in different way.
App Icon
App icon is the most distinguished element in conversion optimization. Users can easily be attracted by some great apps or games by their icons with amazing design and powerful expressiveness.

When a user finds your app, the first thing they see is usually the icon. Therefore, it affects users' decision to download your app. Embrace simplicity to create an easy-to-recognize and attractive icon.


Related article about optimizing app icon:
App Icon optimization: A practical guide to boost app conversion rate


Preview Video
Preview video provides an excellent way to capture the attention of potential users in app listings.

When you find an app that you're interested in and go to that app's page, what grabs your attention first?

The first placeholder on the visuals part belongs to the app preview video if there is any. These videos are to showcase the user experience and UI of your app in a more engaging way. Be sure to make it as compelling as possible.


We give you some suggestions to optimize preview video:
Be at most 30 seconds long, and the first 5 seconds of it counts most.

Use footage shot inside the app.

Use the video elements you have the right to use.

Check the content requirements specified by Apple.

Localize your video for different storefronts.

Add disclaimers as needed.
Related article about optimizing preview video:
ASO Hack: What Kind of Icons and Screenshots Are More Attractive to Users?


Screenshots
As being seen in the search results, screenshots are one of the most important conversion optimization factors. They don't directly affect the rankings, but affect CTR and thus conversion rate. You can have up to 10 screenshots for iOS apps.

Out of those 10, you can either have 3 vertical or 1 horizontal one featured in the search results if there is no preview video. Those featured will be the first 3 vertical screenshots (or a horizontal screenshot if the first screenshot is horizontal) you have on your app's page. So, be careful about which screenshots you want to be featured.


Promotional Text
The promotional text definitely has an impact on the conversion rate. It is the first 170 characters of the description and does not need to release an update to change it, which makes it a more convenient marketing tool than the description.

Try to make the promo text as compelling as possible. You can include some special offers or latest updates to promote your app and conduct an A/B test to find out the message that works best for conversion.


Description
The description affects only SEO so it is a less attractive factor for ranking, but still affects conversion rate as users may read it when they land on your app page.

Description can have up to 4000 characters and require a new release.

First, you need to write it according to SEO rules. It's recommended to have a concise and clear description, which explains the key features of your product. Use bullet points and call-to-actions when necessary to create an easier reading experience.

Actually, most users end up reading only the first line of the description. That means only the first couple sentences matter, and you need to craft it in a way that communicates what your app does in the most efficient way. Lastly, don't forget to localize it for different countries as not all users can speak the same language as your app.


Related article about optimizing description:
What About Google Play Store ASO And Its Keyword Optimization


Ratings & Reviews
Ratings & reviews are the most important ones in the secondary iOS factors that affect conversion rate directly but you have no control on it. Since ratings are shown in the search results while reviews can be seen on the app page, rating is more helpful to conversion rate.


The rating below 3.5 usually gives the impression that this app its not a good choice. It is better to ask users rate your app after they spend some time on enjoying it.


Reviews make you understand the needs of users. Espercially, nagative reviews always give the best feedback as users tell about an issue that you may never think before. You should analyze the reviews thoroughly and try to fix the problems in a timely manner.


Don't forget to reply to the bad reviewers. When they know that their issue is resolved, they may change the rating and review as a result. A good review has significant meaning on increasing conversion rate.


Related article about optimizing ratings & reviews:
Maximizing the Power of Ratings & Reviews for ASO: Takeaways for App Developers


Does app publisher completely lose control on ratings & reviews? Actually, they doen't. ASOWorld offers you satefy Rating & Reviews Install service to boost your app.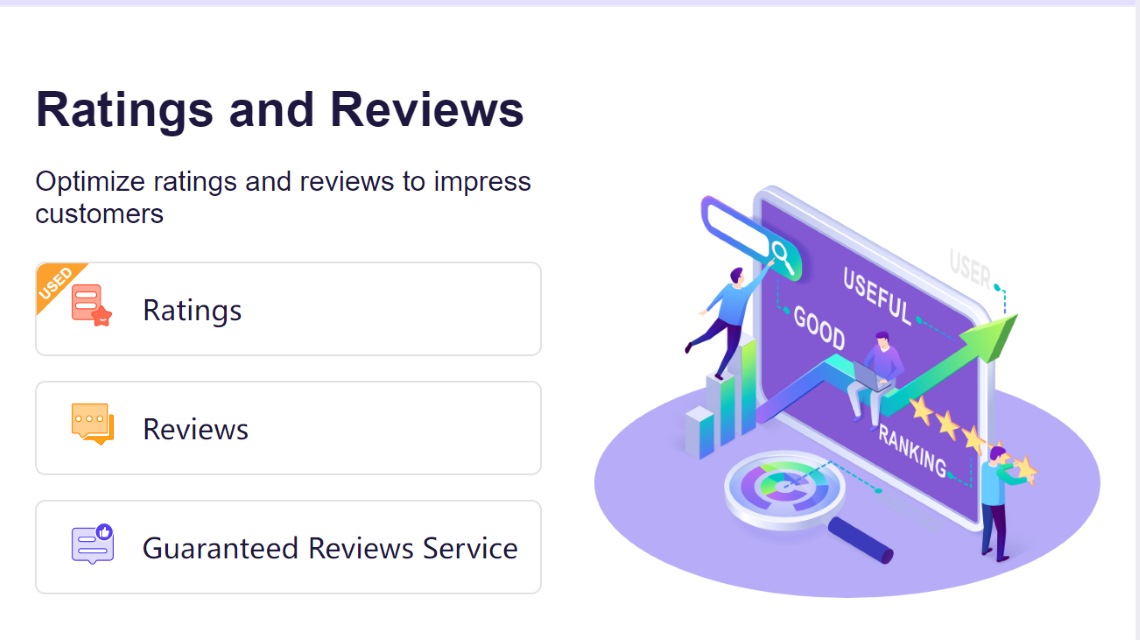 In-app Purchase (IAP)
In-app purchase offers extra content and features, including digital goods, subscriptions, and premium content, directly within your app through in‑app purchases on all Apple platforms. You can even promote and offer in-app purchases directly on the App Store. Since you have the option to add up to 20 items as "in-app-purchase", it will be good to put some keywords to be ranked.
Related article about optimizing in-app purchase:
App Growth Hacking: How To Utilize Promotional In - App Purchase Boost Your ASO KPIs?


In-app Events
In-app events are timely events within apps and games, such as game competitions, movie premieres, livestreamed experiences, and more. In-app events appear on app page as the event cards including images or video, the event name, and a short description. When users search for an app, the event card appears along with your app for users who have downloaded your app, while screenshots show for those who haven't downloaded your app. Users can also search for in-app events directly. When users search for an event, the event card appears along with your app. It also has chance to show in editorially curated selections and personalized recommendations on the Today, Games, and Apps tabs.
Related article about optimizing in-app events:
How to Utilize In-App Events to Increase Your Mobile App Visibility and Engagement?


Developer Name
The developer name is placed under the description. Most users don't care to see the things coming after the description, so developer name doesn't affect conversion rate directly. Still, a highly reputable developer name can get your app some conversion. Your app may even be featured in the Today tab.


5.

Checklist for Google Play Optimization Ranking Factors
As the largest app store in terms of the number fo users and the number of apps, Google Paly Store has huge market size and tremendous opprtunities, at the same time its competition is also extremely fierce. The rules of the ASO factors are similar to those in the App Store, but there are also some differences. We'll go over all the factors affecting ASO in Google Play Store, and update this guide with the newest tips and insights.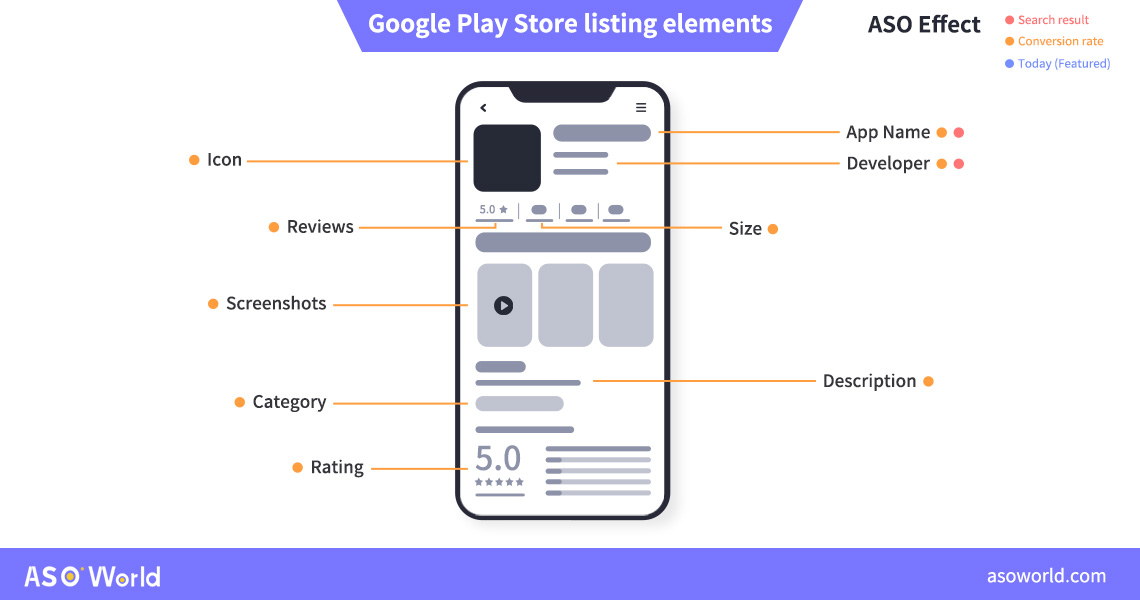 App Title
The same as in Apple App Store, app title in Google Play Store is also the most important ranking factor in both search result and conversion rate. It has a limit of 50 charaters that is more than that in iOS. There are two choices for you to make your app title more powerful.

The first choice is utilizing all the 50 characters by putting the most important keywords to increase your chances of ranking for those keywords.

But if you put too many unrelated keywords, people may perceive your app spammy and unreliable. In the second choice, you can go for the short and precise branding option. If you have a well-known and established brand, emphasize it first and put just a few keywords. The fewer keywords you put, the more emphasis will be on the brand name.


Short and Long Description
As Google's algorithm gives the second weight to description which is very different from Apple, it is derectly affect app's ranking. The total length of description can contain at most 4000 characters, while you have up to 80 characters to place the most relevant keywords in short description.

Repeating a keyword a couple of times signals that your app is very much related to it and should be ranked for it. However, please note that each term can only appear once in the short description. The best practice in long descriptions is to maintain a density of 2-3% for your most relevant keywords. Avoid exceeding 3% density, as this may be considered "keyword stuffing" and the algorithm will penalize you for it.


Ratings & Reviews
Ratings and reviews in iOS just affect the conversion rate, while Play Store's ratings and reviews influence both search results and conversion rate. Ratings are shown in the search results, featured pages and top charts, undoubtedly, they are more critical.

Hence, it is important to have good ratings (above 3.5) and positive reviews.

The keywords that users leave in the Play Store reviews impact the keyword rankings because Google Play indexes the keywords in the reviews. App Store, however, doesn't index the keywords in the reviews. You should also be responsive to both good and bad reviews.


App Icon
App icon is the most important visual asset for your app, it appears in the search results, the listing page, Top Charts and Category Rankings, almost everywhere. The methods to get a great app icon are the same as those in iOS. The main points are related to your app, easily recognizable and memorable. An attractive app icon will help to increase your app's conversion rate.


Screenshots
In Google Play Store, when you search for different keywords, the search result page shows in different styles.

Some search result pages will feature the screenshots, but oftentimes, only the logo will be shown. So, it might seem like the screenshots in Google Play have less impact than those in the App Store because they're generally visible in the listing page only. Howerver, screenshot is still a considerable factor impacting on conversion rate.


Promo Video
Promo videos are much more effective in converting users than screenshots. Your video should feature the best parts of your app, just like your screenshots. The first couple of seconds are very important in Google Play Store as well, so make sure your best scenes are shown at the very beginning.


Download & Retention
As shown in the search result page, the number of downloads is a more visible indicator that shows the popularity of your app in Google Play. A very high number of downloads signals a popular app and the users are likely to download it. In addition, Google takes into account the retention rate together with the number of downloads and ranks the apps accordingly.


URL/Package
It is better to put some important keywords in your URL, therefore your app has chance to rank for these keywords. But, you can not change it later once you set it up. Be careful to set your URL.


Developer Name
The developer name has greater impact on ranking in Google Play than App Store. As it is shown below the app title which is a very up palce in the app page, it is more visible. You should consider to put a few keywords right next to it to get rank.


Other Factors: Bugs & App Size & Battery Life
There are some other factors that affects your ranking, such as bugs, app size and battery life. Google gives them very small weight, however they have a tremendous impact on user retention and download numbers, if users keep complaining about your app in the reviews, rate it very low, and most probably delete it after a while. Therefore, you should better solve these technical issues before they become an insurmountable problem.